Description
A wide range of applications
Unlimited working area and a large range of sheet metal thicknesses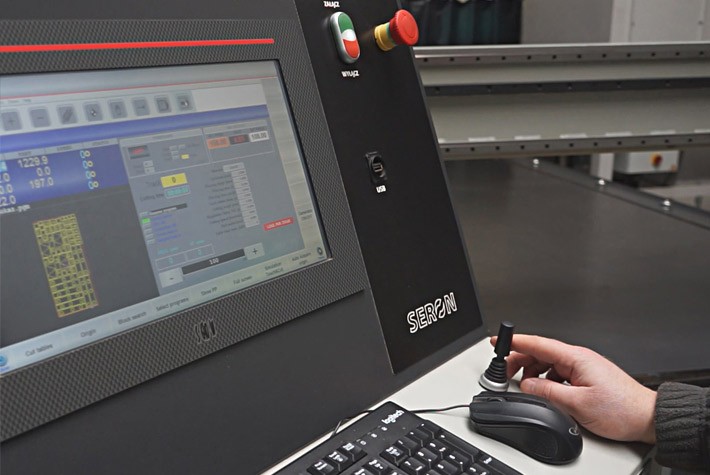 Intuitive and easy to use controls with a wide range of possibilities.
Machines are equipped only with the highest quality components, known and recognized on the market, guarantee reliability.
Technical data
Working area

X: 1550, 2050 mm; Y: 3050, 4050, 6050 mm

gate clearance
up to 500
Speed of travel
up to 50 m/min
Drivers
x ,Y racls, z ball screw
Bearing
Modular extraction, separated by the runway
Type of table
up to 80 m/min
Additional options
ꞏrotary axis (range 50 – 650mm),
ꞏ extended portal,
ꞏ module for drilling, chamfering, tapping, separate work zones
Efficient and flexible
Seron portal cutters are industrial solutions for metal cutting, characterized by the use of several burners in their construction. The DualCut portal cutter is equipped with an innovative gas-oxygen burner that is perfect for cutting steel with thicknesses from 3 to even 300 mm, and a plasma torch that works well for universal processing of various types of metals and different thicknesses.
Construction
The steel, welded and ribbed structure is characterized by the highest parameters, ensuring precise processing at high speeds and dynamics of movements. The bed and the running elements are subjected to the process of stress relief and machining on large-format milling centers, which ensures long-term stability and dimensional precision of the machine. Learn more about the construction»
Controls
The professional world-class control that has been implemented in our cutters is ergonomic and functional. It uses a protocol that enables two-way communication with components, which allows for monitoring and active correction of their parameters as well as ultra-fast setting and control of the drive position. It has many built-in functions to optimize machining processes, reducing production costs. The control of the device is intuitive and simple, and also fully compatible with CAD / CAM programs. The built-in internal memory allows you to save the generated projects, which is a great help when working with the machine. Learn more about controls »
Basic features of the oxygen / plasma cutter
precise and repeatable cutting of steel
steel welded structure combined with the highest quality components
portal structure, track is separated from the work table
significantly lower operating costs compared to water cutting
modular design allowing any working size
possibility of cutting with both plasma and gas
Dedicated materials
black steel
stainless steel
aluminum
Equipment options
sectional extraction table with an exchangeable grate with a load capacity of up to 2500 kg / m2
laser torch position indicator
Rotary axis for processing pipes and profiles with a working area length
additional oxygen or plasma torch
mobile pallet for easy loading and unloading
drilling module
tapping module
marking module
The benefits of buying Seron machines
The advantages and capabilities of our devices are not all that you will get by choosing to work with us
Make an appointment for a free show in our showroom and see the device live
Our advisers are at your disposal. Fill out the form below and contact us!