Description
Let only your imagination limit you. Complete complex projects in a simple and effective way.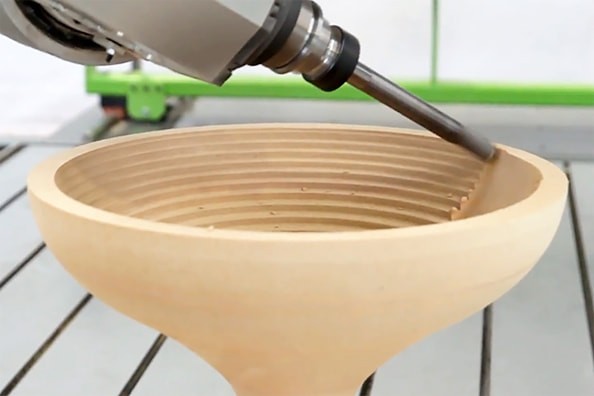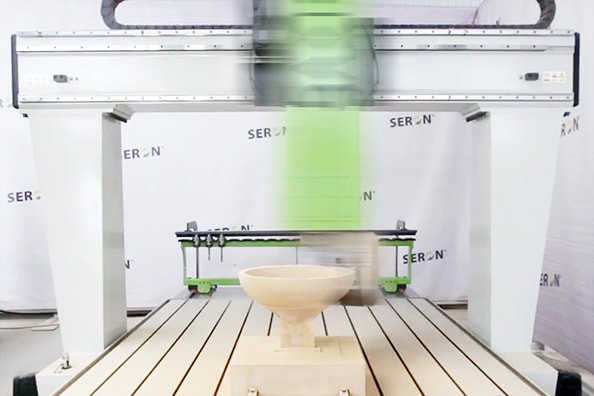 A solid structure that allows the processing of even large dimensions while maintaining repeatability and the highest precision of processing.
Industrial control system for the comprehensive management of the machine and its key components.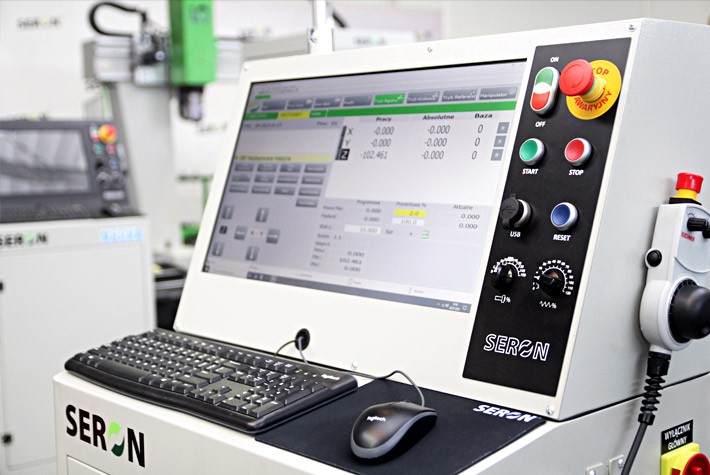 Dane techniczne
Control system
Multi-axis real-time interpolator, with active trajectory forecasting, LAN communication, EtherCat, 2ms sampling time, optional RTCP tool end tracking, correction map, remote service access
Working area
1500 – 3000 x 2100 – 12000 mm
Z axis range
500 – 1500 mm
Drive system
Servopohony Omron s protokolom EtherCat,
kalené špirálové čepele X, Y, brúsené v triede presnosti 6,
guľová skrutka v osi Z v triede presnosti 5
Linear bearing
Bosch Rexroth 35
Travel speed
X, Y up to 45 m/min; C, A up to6000 degrees/min
Program resolution
0,0005 mm
Positioning accuracy
0,01 mm
Gate drive
double-sided master / slave with gate angle correction
Electrospindles
8 kW up to 36 kW
Electrospindle inverter
yes
Maximum revolutions of the electro-spindle
24 000 rpm (option 6000, 40 000 50 000)
Construction
Steel welded, ribbed, stress relieved, precision machined
Table type
vacuum, hybrid, steel, aluminum with M16 or M18 holes
Equipment options

cooling the tool
linear, turret tool magazine
rotary axis on the table
laser scanner
positioning bases
oscillating aggregate
5-axis software
closed system for cooling the electro-spindle with liquid
automatic central lubrication
Big possibilities and high performance
The 5-axis machine generation is an innovative solution chosen most frequently by model companies, thermoforming, laminating and casting moulds, sculptures, carvings and all kinds of 3D electrodes. Working with tilt-rods gives us the ability to work in axes A and C, the machine can perform complex details several times faster than machine tools 3 or 4-axis, and can also execute projects that are impossible to do on simpler machines.
The 5-axis series is characterised by its precision, dynamics and speed of operation. The guarantee of non-conformity was obtained by the application of the highest class of components. The ergonomic construction consisting of a fixed table and a mobile gate will be very successful in processing complex and complex bricks of high precision, such as those used in the motor industry or aviation industry.
Construction
The structure is made of solid, ribbed and welded steel elements. High accuracy of the machine geometry is guaranteed by precise machining from one clamping, previously annealed structure. The weight of the machine can reach up to 30 tons, while the use of composites in its running elements guarantees high dynamics of work while maintaining high kinematic properties. Learn more about the construction»
Control
Industrial, world-class CNC control integrated with the LAN network allows active monitoring of the operation of key components. The EtherCat protocol used enables bi-directional, ultrafast communication with a sampling time of less than 1 ms. The multi-axis real-time interpolator dynamically forecasts the trajectory of movements with the use of active end point control (RTCP) minimizes lagging error, translating into smooth and precise operation also in HPM and HSM modes. The integrated CAD / CAM environment allows you to easily edit projects directly on the control unit, which significantly improves the performance of minor program corrections. What's more, it allows you to perform simultaneous machining, which will additionally ensure the operator that the execution files are properly prepared. The structure of the G-code enables the automation of the most frequently performed cycles and operations according to individual needs. Learn more about control »
Basic features of the 5-axis Machining Center
modern real-time control system
dynamic trajectory analysis
high-speed EtherCat communication protocol
highly precise, fast and trouble-free machines
top-class components ensuring efficient and accurate work
remote technical support
Dedicated materials
soft and non-ferrous metals: brass, copper, bronze, aluminum,
composites: dibond, alucobond, etc.
plastics: polycarbonate, PVC, plexiglass, teflon, polyamides, gambit, rubber, etc.
solid wood and wood-based boards: plywood, chipboards, MDF, OSB, etc.
paper, cardboard, foil, etc.
foams, extruded materials, etc.
The benefits of buying Seron machines
The advantages and capabilities of our devices are not all that you will get by choosing to work with us.
Make an appointment for a free show in our showroom and see the device live
Our advisers are at your disposal. Fill out the form below and contact us!