Description
Innovative optical solutions guarantee instant realizations in excellent quality.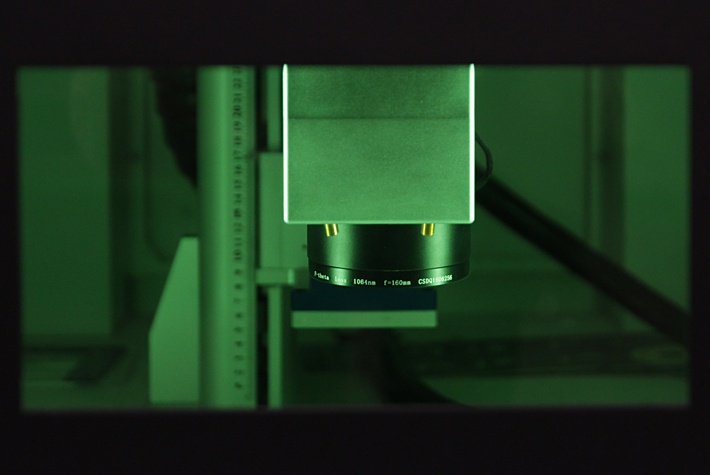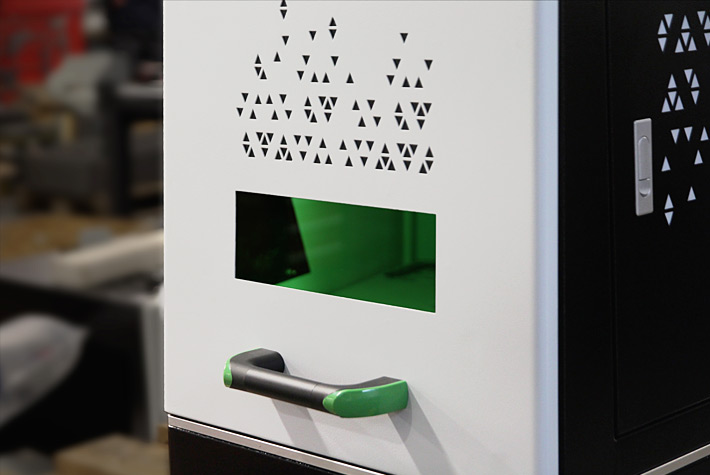 Functional cover that meets safety standards.
Functional and easy to use controls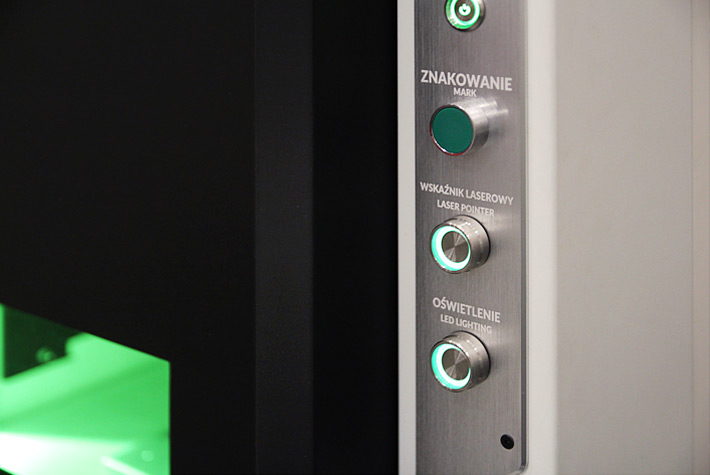 Technical data
| | |
| --- | --- |
| Working area | 110 x 110 mm (option 200 x 200 mm) |
| Max. item height | up to 500 mm |
| Max. marking speed [mm / s] | up to 7000 mm/s |
| Spot diameter [mm] | 0,01 mm |
| Marking depth [mm] | up to 0,5 mm |
| Max. resolution [dpi] | 3000×3000 dpi |
| Laser power source | 20W / 30W / 50W |
| Chiller | source cooled by air |
| Max. power consumption [W] | 1000 W |
| Supply power [V] | 230 V |
| Weight | 65 kg |
| Dimensions | 550x800x820 |
Precise and fast marking
Fiber laser markers are technologically advanced devices designed for precise and fast marking with the use of a fiber laser.
This device has the ability to process a wide range of materials, thanks to which it will be used in many industrial sectors, both in processes related to marking and identification of products, among others. in the automotive, electronics, machinery, advertising and decorative sectors.
Thanks to small dimensions, the device is suitable for mobile work. The marker device use the most modern fiber optic technology with high durability, and advanced optics: ultrafast galvo scanner and F-theta lens to direct the beam. This technology ensures even more accurate and more efficient work compared to other machines of this type available on the market.
The Seron Fiber marking device is characterized by high speed and high quality of the laser beam, which, combined with precise components and an ergonomic construction, provides a universal and innovative device that will work in both small and larger enterprises. Thanks to the use of advanced precise optics, the marking is of excellent quality, and every detail is faithfully reproduced. In addition, the marking is permanent, resistant to abrasion and chemical agents
Basic features of Fiber marking machines
advanced innovative laser marking technology
precise, fast, plunge engraving and marking
dedicated to metals and their alloys, including rare, precious and coated
mobile marking head
ultra fast precise galvo scanner
the software is fully compatible with the following programs: Corel Draw, AutoCad and PhotoShop
laser air cooling system
high marking speed and high precision
intuitive device operation
marking on the fly
generating barcodes, assigning serial numbers
the possibility of using feeders that automate the operation of the device
Dedicated materials
metals
composites
plastics: polycarbonate, PVC, plexiglass, Teflon, polyamides, gambit, rubber, etc.
skin
epoxy
The benefits of buying Seron machines
The advantages and capabilities of our devices are not all that you will get by choosing to work with us
Make an appointment for a free show in our showroom and see the device live
Our advisers are at your disposal. Fill out the form below and contact us!