Description
Full repeatability and accuracy of performed details guaranteed by a solid structure and high-class control system.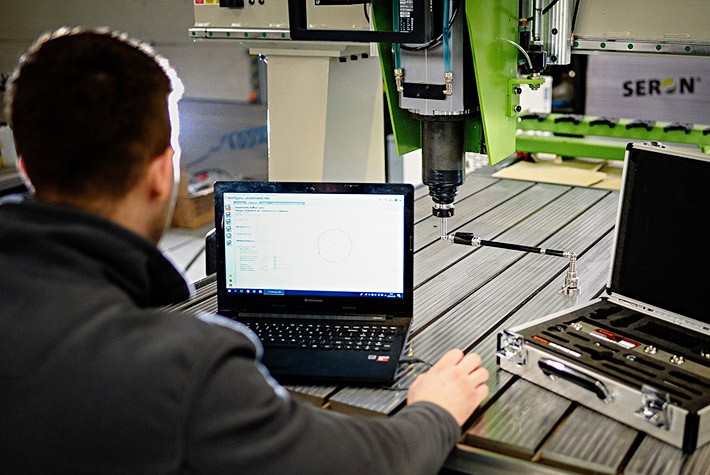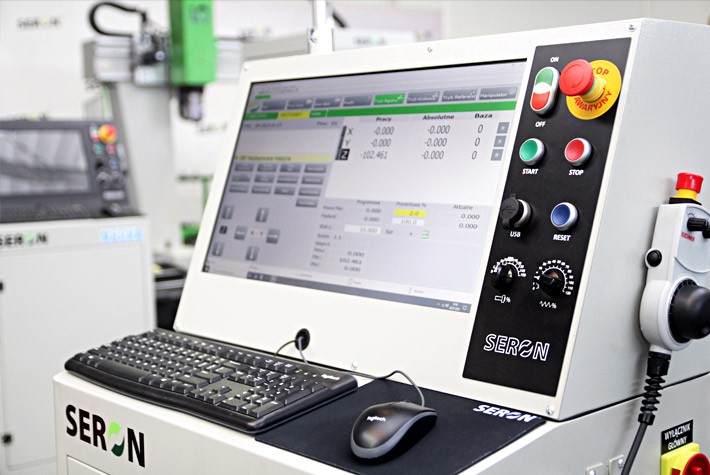 Industrial control system for the comprehensive management of the machine and its key components.
The solid structure allows for aggressive machining while maintaining the precision of the details and their repeatability.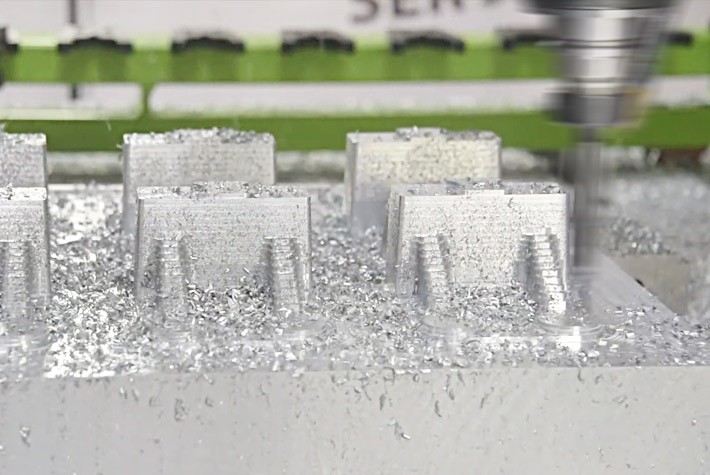 Technical data
Control system
Multi-axis real-time interpolator, with active trajectory forecasting, LAN communication, EtherCat, 2ms sampling time, optional RTCP tool end tracking, correction map, remote service access
Working area
X: 600 – 2100 mm Y: 900 – 6000 mm
Z axis range
200 – 500 mm
Drive system
Omron servo drives with EtherCat protocol,
X, Y helical slats hardened ground in accuracy class 6,
Z axis ball screw with accuracy class 5
Linear bearing
Trapezoidal rails, Bosch Rexroth 25
Travel speed
Up to 80 m / min
Acceleration
up to 1G
Program resolution
up to 0,0001mm
Positioning accuracy
0,01 mm
Gate drive
double-sided master / slave with gate angle correction
Electrospindles
8 kW to 36 kW powered by an inverter
Tool taper
ISO30 or HSK63 ER32
Maximum speed of the electro-spindle
24,000 rpm (option 6,000, 40,000, 50,000)
Construction
Steel welded, ribbed, stress relieved, precision machined
Table type:
T-raster aluminum, solid aluminum, solid steel
Equipment options

positioning and correction of material by a camera, laser, measuring probe
linear, turret tool magazine
cooling the tool with mist, chilled air
3D laser or touch scanner
positioning bases
additional angular / rotary axes
drilling units, angular
pneumatic clamping clamps
marking of details
integration with an industrial robot
CAD / CAM 3D software
automatic central lubrication
automated liquid cooling system
Stable structure with the highest parameters
HardLine are professional, industrial machine tools designed for companies working in demanding materials. The massive structure based on the conceptual design of the PRO series machines is an excellent basis for the implementation of advanced technological solutions, and in combination with selected components from renowned manufacturers, it ensures high performance and long-term, reliable operation of the machine tool.
The suggested configuration is equipped with a table made of solid steel or aluminum, both for mechanical and vacuum clamping, which ensures the stabilization of elements, which is particularly important when working in hard materials requiring high machining precision.
Construction
The steel, welded and ribbed structure is characterized by the highest parameters, ensuring precise processing at high speeds and dynamics of movements. The bed and the running elements are subjected to the process of stress relief and machining on large-format milling centers, which ensures long-term stability and dimensional precision of the machine. Learn more about the construction »
Control
HardLine machine by their high efficiency and work dynamics to professional CNC control. The EtherCat communication protocol with a sampling time of less than 1ms enables ultra-fast two-way communication with key components. The smooth and precise operation of the machine tool is also influenced by the multi-axis real-time interpolator, which actively forecasts the motion path, minimizing the lag error also in the HPM and HSM machining modes. The operator's comfort is also increased by the integrated CAD / CAM environment which allows for easy editing of files directly on the control unit. The structure of the G-code enables the individual design of cycles and operations, automating them according to the user's preferences
Learn more about control »
Basic features of the Hardline series
modern real-time control system
dynamic trajectory analysis using the EtherCat protocol
high vibration damping coefficient
efficient processing of demanding materials
precise table made of solid material
effective tool cooling
extensive equipment
remote technical support
Dedicated materials
metals
composites (dibond, alucobond, etc.)
plastics: polycarbonate, PVC, plexiglass, rubber, Teflon, polyamides, etc.
solid wood, plywood, chipboards, MDF, OSB
The benefits of buying Seron machines
The advantages and capabilities of our devices are not all that you will get by choosing to work with us
Make an appointment for a free show in our showroom and see the device live
Our advisers are at your disposal. Fill out the form below and contact us!