Description
This machine is perfect for medium and low-cost production of packaging, boxes and crates. These products can be quickly designed, personalized for a specific customer and made of various materials, e.g. cardboard, paper and wood-based materials. The oscillating knife allows you to make foam fillings, which are often used in exclusive packaging.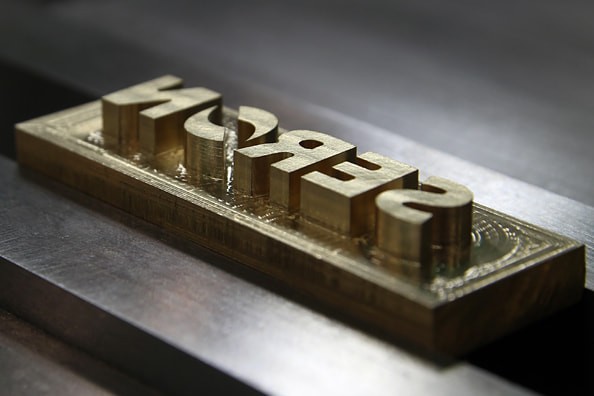 A professional machine designed for companies producing molds and dies made of aluminum, prolab, MDF. The rigid structure and the use of the highest class components ensure high performance and long-term trouble-free operation. The machine can be expanded with additional equipment and further increase its efficiency.
The function of Cutter allows you to peel soft materials from the shelves or from the rolls. The result is the quality of the sabre, ornaments, gadgets and reminders with graphics or logos. The ease with which projects can be prepared and replicated on AdMaker gives unlimited flexibility to adapt to the expectations of the Client.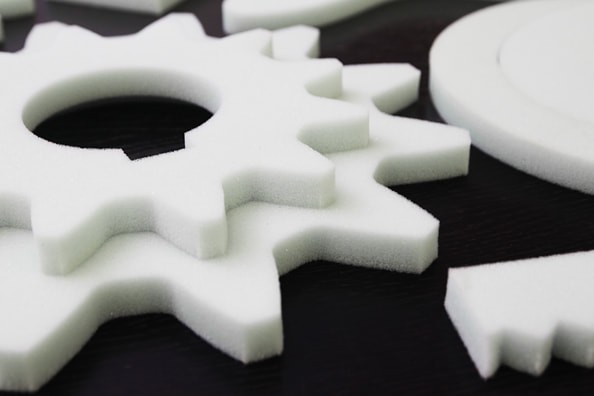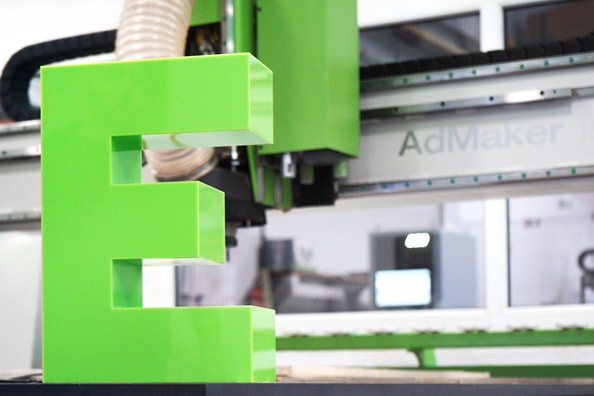 AdMaker gives almost unlimited possibilities of creating spatial forms such as letters, logos and graphic elements. Equipping the machine with an electrospindle and an oscillating knife enables work both in soft styrodur and in difficult-to-machine aluminum.
The vacuum table and the appropriate power of the electrospindles guarantee the production of the highest quality advertising pylons from all materials used for this. The production of advertising coffers (also semaphore ones) is not a problem. The construction of the machine allows to achieve high accuracy, which is important for press-fitted elements, e.g. colored plexiglass into the dibond body.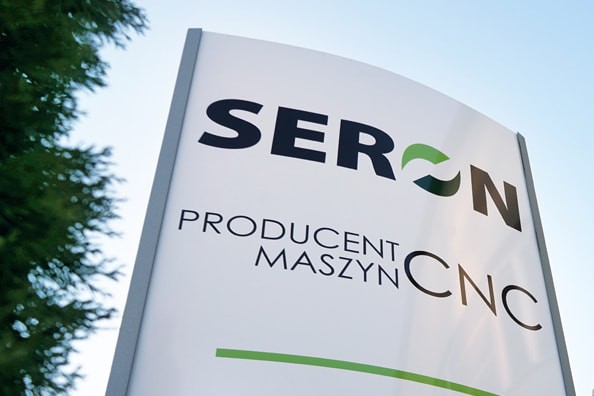 This device enables the production of decorative and finishing products. In combination with CAD / CAM software, you can prepare projects for unit production as well as high-volume production as quickly. Thanks to this machine, you receive a tool to carry out non-standard orders such as decors, bas-reliefs, openwork partitions of rooms, etc.
Control system
multi-axis real-time interpolator, with active trajectory forecasting, LAN communication, EtherCat, 2ms sampling time, optional RTCP tool end tracking, correction map, remote service access
Working area
1500 x 2000 mm
Z axis range
200 – 500 mm
Drive system
X, Y helical slats hardened ground
Z axis ball screw
Linear bearing
trapezoidal rails, Bosch Rexroth 25
Travel speed
up to 80 m/min
Brushless electrospindle
yes
Program resolution
0,0005 mm (0,0025 servo engines)
Positioning accuracy
0,01 mm
Double-sided gate drive
tak
Electric spindle power
8 – 12 kW
Electrospindle inverter
tak
Maximum revolutions of the electro-spindle
24000 rpm
Construction
steel welded, ribbed, stress relieved, precision machined
Table type
vacuum, hybrid
Equipment options

Tool cooling
scanner
Positioning bases
angular aggregate
Central lubrication system
chip extraction installation
active oscillating knife, roller knife, drag knife, marker pen,electric knife,
pneumatic knife
positioning of the material by means of a camera, laser, measuring probe
Professional and multifunctional
AdMaker is a multi-tool machining center based on the conceptual design of the Expert series machines. It combines high efficiency and precision of processing a wide range of materials. The configuration of the machine was developed based on the needs of the advertising industry. Dedicated to companies that focus on automation and minimization of production costs.
Top-class tools, such as the multi-tool oscillating knife module in a duet with a professional electrospindle, which the AdMaker is equipped with, allow for highly efficient processing of a wide range of materials, leaving clean and smooth edges. It will be perfect wherever advertising elements, packaging, gaskets, casting molds or for cutting textiles in the sewing or upholstery industry are produced. The positioning camera and the ability to quickly and easily clamp the material on the vacuum table facilitate precise processing of small formats.
Construction
High precision with efficient and dynamic machining is possible thanks to the welded, steel and ribbed structure. Long-term stability and dimensional precision are guaranteed by a two-stage annealing process and machining from one clamping on large-format machining centers.
Learn more about the construction »
Control
Industrial, professional CNC control integrated with the LAN network allows for active communication with key components. The EtherCat protocol used enables ultra-fast, two-way communication with a sampling time of less than 1 ms. The multi-axis real-time interpolator actively forecasts the trajectory of movements also in HPM and HSM modes minimizes lagging error resulting in dynamic, smooth and precise operation. Integrated CAD / CAM environment allowing for easy editing of designs directly on the control unit increases flexibility in operation. The structure of the G-code allows you to automate the cycles and operations performed according to individual needs.
Learn more about control »
Application
Processes all materials used in the production of advertising, packaging, gadgets, etc. The oscillating knife in combination with the electric spindle easily cuts various types of materials, leaving clean and smooth edges. Air powered tool, especially well suited for cutting hard, dense materials, but can also handle The vacuum table allows to process small formats. Thanks to the creasing head or the camera that determines the position of the material on the table, we obtain a multifunctional device that gives huge automatic processing possibilities.
Basic features of the AdMaker Machining Center
modern real-time control system
dynamic trajectory analysis
high-speed EtherCat communication protocol
rigid structure combined with top-class components
remote technical support
multifunctionality thanks to the combination of different processing methods
Dedicated materials
plastics: polycarbonate, PVC, plexiglass, rubber, teflon, polyamides, etc.
cardboards
leather and textiles
gambit
soft and non-ferrous metals: brass, copper, bronze, aluminum,
composites (dibond, alucobond, etc.)
solid wood, plywood, chipboards, MDF, OSB,
foams, extruded materials, etc.
Equipment options
tool cooling
scanner
positioning databases
angular aggregate
central lubrication system
chip extraction installation
The benefits of buying Seron machines
The advantages and capabilities of our devices are not all that you will get by choosing to work with us
Make an appointment for a free show in our showroom and see the device live
Our advisers are at your disposal. Fill out the form below and contact us!